Purpose. People. Planet. Profit.

Supporting conscious leaders and brands
across sectors as they embrace purpose
holistically. And strategically integrate
brand development, communications,
corporate culture and operations.
Purpose. Sustainability. CSR. ESG. SDGs. Brand Citizenship. These are now catchalls for the same thing: a stakeholder approach to business and doing good.
"Leaders – and leadership brands – have always cultivated relationships with all stakeholders based on trust…. On living their purpose and values and ensuring their communications reflect the actual experience delivered."
About
Gifted in seeing the potential in people and brands, Anne is a listener, collaborator and tireless innovator above all else. She is skilled at inviting others to gain new perspectives alongside her and at guiding them to bring these new possibilities to life.
"My role as a strategist has always included coaching brands and leaders to have the courage and confidence to be their best, true selves. To have a broader societal vision and positive impact."
An early pioneer of the purpose space, a Superbrands Branding Leader and a Trust Across America Top Thought Leader, Anne is the author of DO GOOD, which details her pioneering Me-to-We continuum of Brand Citizenship®. With her unique, career-long perspective of branding and marketing, Anne built the research-based insights for the 5-step model over more than ten years. Like the proverbial canary in the coal mine, she started to observe how people's definitions of value and connections to brands were getting turned upside down—without many of us noticing, or too many of us failing to understand the import.
Today, Anne is focused on shifting the consciousness of business—advising leaders on how to use purpose as a transformational tool and supporting them in effectively integrating sustainability, citizenship and ESG into brand development, communications, corporate culture and operations. Concurrent to working with clients, speaking and volunteering, she's an Ambassador for Meaningful Business, a global community of leaders combining profit and purpose to help achieve the UN Global Goals, an advisor to Overflow pbc, an open talent platform for Independent Strategy Consultants and collaborating with Berlin-base e-Mission to deliver interactive and engaging ESG SaaS training.
As a former executive director of strategy and planning and head of consulting at Interbrand, the world's leading brand consultancy, Anne brings a depth of knowledge and understanding that only comes from interacting with a lengthy list of the world's most valuable organizations. (…more)
"Aligning organizational behaviors and actions with purpose and values was the reason I pivoted into brand consulting after previously working on the client side in B2B banking. I am passionate about monitoring how shifting cultural dynamics impact our relationships with brands, each other and ourselves — and understanding the underlying truths that drive behavior and corporate culture. "
Work
Anne brings every client the benefit of her experience over the course of her career working with B2B and B2C brands across markets and sectors, in various capacities. Some of the brands she's helped over the years include…..
What clients say….
"Anne has an outstanding ability to really think beyond the confines of most people's commercial horizons. She thinks around a particular problem or business situation to identify issues that would not make it onto most people's radar and then comes to the solution or the way forward with frightening speed, accuracy and foresight." – Head of Brand, Information Technology
"Anne is a catalyst for change for organisations that are at a turning point. She offers the tools to draw the lines and connect the dots. She sees what's always been there but nobody has seen before and is a 'button pusher' to help people move to the next level." – Business Leader, Global Asset Manager
"Anne helped our board to look at the issues and understand that we needed to deal with our business model and not just the brand. It wasn't always comfortable but she pushed us in the right way to see the issues." – CFO, US Retailer
"Anne engaged our senior leadership in conversation about marketing and the 'value' of the brand in terms they could understand ($$$) and demonstrating the value in 'integrating the brand and purpose' through everything the firm did." – Head of Operations and Strategy, Financial Services
"Anne did so much more than help us with branding. As a new president of a business that had been through so much negativity, she helped me to crystallize a shared vision and motivate my executive team to move beyond the issues of the past. She assisted us in really becoming a management team." – CEO, Global Travel Company
"Anne is very intuitive in recognizing intellect in others and give them the room to grow, trusting that they'll get there…transferring actual knowledge, but at the same time leaving room for the person to develop naturally and in their own way. She may not come up with a core idea for a person as she does for a brand, but she knows it is there and helps them bring it out on their own." – Chief Brand Officer, EU-based Global Airline
Do Good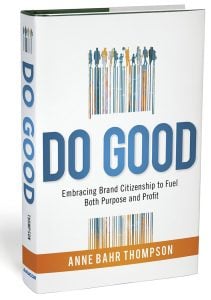 What business and thought leaders say about Do Good….
"…for any company seeking to incorporate a social mission into their brand, without sacrificing profits. Anne Bahr Thompson's model of Brand Citizenship offers compelling advice and creative, yet practical, ways to connect with all stakeholders." – Jay Coen Gilbert, co-founder of B Lab, the nonprofit behind the B Corp movement
"Anne Bahr Thompson's five-step Brand Citizenship model offers a new lens on the challenge of stewarding brands in an era of change and increasing complexity for brand owners." – David Bickerton, Director of Communications, BP plc
"Do Good offers a timely blueprint for building a strong brand with social impact at the core, as customer and employee expectations for the role business plays in society continue to increase." – Andy Polansky, Chief Executive Officer, Weber Shandwick Worldwide
"Anne's book underscores what we experience each day as we work with the CEOs and companies in our coalition, and what the research has shown: that understanding and meeting significant stakeholder needs is critical for companies to prepare for 2020. Do Good is required reading for leaders who want to meet today's business challenges head-on." – Daryl Brewster, CEO, CECP: The CEO Force for Good
"With her remarkable background and decades of experience, Anne Bahr Thompson has succeeded in joining profitability with purpose (a long-sought synchronization seldom achieved today) and crafted an exceptional framework for businesses to attain Brand Citizenship—which virtually guarantees a business success. A compelling read for everyone in business, I heartily endorse Do Good." – Archie Carroll, Ph.D., Professor Emeritus, Terry College of Business, University of Georgia; senior coauthor of Business and Society: Ethics, Sustainability, and Stakeholder Management, 10th Edition
"Do Good is engaging, insightful, convincing, and useful. In a world where consumers, employees, and shareholders demand more from the brands they engage with, this book—and the unique Brand Citizenship model Thompson proposes within it—is essential reading for any business leader looking to unlock value and help their organization earn an extraordinary and irreplaceable role in people's lives." – Kevin Jasmin, Director of Corporate Brand Strategy, TD Ameritrade